Make your weekend last longer, share one of these..
Top 20 Weekend Status Updates:
I'm slowly becoming more unable to fit my hand into a pringles can…is this what growing up feels like?
Sorry for triple texts I can't gather thoughts into 1 message.
Have you ever lost any respect you once held for a person in a matter of minutes.
I run marathons. Just kidding, I drink beer.
I'm not a morning person.
I'm not even an afternoon person.
I pretty much start functioning at 6pm.
I speak four languages: English, Profanity, Sarcasm and Real Talk.
Being an adult is basically a "choose your own adventure" book, but every choice sounds terrible.
I hate watching an episode a week. I more a "season per day" kind of person.
My goal in life isn't to become famous or powerful…it's to make enough money to eat whatever I want.
The Friend Zone: It's like an employer turning you down for the job, then calling you weekly to complain about the guy they hired.
My life is a constant cycle of waiting for the weekend.
Sometimes I forget how I did things without a smart phone like get directions, find recipes or have insomnia.
Nothing like trying to study to make you realize how cool the ceiling looks.
I don't sugar coat things. I'm not Willy Wonka.
I'm gonna regret this next episode in the morning…. *presses play*
I don't know what's worse – getting in the shower or getting out?
My favorite part of Cinderella isn't the prince. It's the idea of a night off and a free ball gown.
Eat anything you want. And if people make fun of your weight, eat them, too.
That awkward moment when people start stuff on your Facebook status and you just don't want to get involved.
My maturity level is entirely dependent on who I'm around.
Witty Status | Yesterdays Status Updates…
Cat Screams No When Getting in Bath..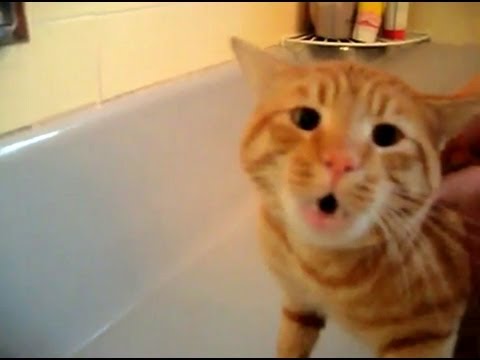 How is that possible? So weird and so funny!